Learn about why it's important to use free business plan templates and find the top 15 free business plan templates for your own business.
Writing a business plan is not everyone's idea of a fun afternoon. 
In fact, if you're like other entrepreneurs, you might have to pull a few all-nighters to finish one so that you'll have something pitch to your investors. 
And that's just the thing, your business plan is an important part of your business, and as a founder and entrepreneur, you want to ensure that your business plan is the best that you can make it.
That being said, what if I told you there was a way to reduce the time it took to create a business plan, while still retaining the quality that would wow your investors. 
This is what free business templates do for you. 
There is a generally agreed-upon structure of how your business plan should look, and templates help you create your plan to follow that structure. 
Using a template allows you to save time, while still creating a plan that is of a high enough standard. 
Investors, and anyone else reading your plan, expect it to be of a certain quality and conform to certain standards. A template helps you do that easily.
A standard business plan template contains several sections that your business plan is expected to cover. They are:
The Executive Summary
Company Description
Products and Services
Operations Plan
Marketing Plan
Financial Plan
 Appendices
Most free business plan templates come with step-by-step guides to help you create the ideal business plan. 
There are numerous instructions for completing each section, tips to help you out and questions to help keep you on track.  
While there might be some specific details that are unique to your business, a business plan template gives you at least a starting point to launch out from.
Let's take a look at the top 15 free business plan templates for your business
My Own Business Institute (MOBI) is a business Institute that provides education for business owners. They have a business plan template that corresponds to the content of one of their courses: Starting a business. They advise that you complete each section of the business plan after the correlating session in the course is completed. Each section comes with guides, questions, and topics to help you properly prepare your business plan. 
 To use the free business plan templates, all you need do to download the template, and upon completing each section, go to the business plan and edit it to reflect your business while remaining true to everything that you were taught.
First, you'll have to replace the MOBI logo on the cover page with your logo, then enter the details of your business. Once you do that, begin to work through each section. Use the suggestions and questions there as a guide to writing the perfect business plan. Once you are done, you should have any principal stakeholder go through it to ensure it represents your business well and voila, you are done!
Microsoft Office is one of the best application suites for office work on the planet. 
It boasts of a wide range of applications, from Microsoft Word, which is more or less the standard for creating text documents, to Microsoft Powerpoint, which allows you to create powerful presentations. 
You also have Microsoft Excel, a powerful piece of software that allows you to create spreadsheets, analyze data and perform complicated computations. 
Among its many offerings,  are the number of templates that it offers. You can get templates for almost any kind of documents, ranging from resumes to wedding invitations and of course, free business plan templates. 
With a premium subscription, you'll get access to multiple types of business plan templates and slides that you can edit to suit your business. 
To get started, install the Microsoft Office suite on your PC or Mac and open either Word or PowerPoint. After that, scroll to templates and select the template that you'll like to edit. Once it opens, begin to edit the content there to fit your business. 
The U.S SBA (Small Business Association) has a lot of information specifically geared at helping small business owners navigate the complex playing ground that is the business industry. Among the many resources available, there is an in-depth analysis of what a business plan is, as well as how to create. Their website is full of useful information about businesses and business plans. With the U.S SBA, you can either use a traditional or lean start-up business plan formats.
a.) Traditional business plan
It's a multi-chapter business plan template that fits the detail-oriented business plan writers.
b.) Lean startup plan
The lean start-up business plan is much shorter than the traditional business plan. It only covers a few essential points like, what do you do, how do you want to do it and who are you doing it for. More than that, they also have examples of already completed business plans, to show you just how your business plan should look when you're done.
Lean stack takes the idea of the lean business plan to the next level. They built the lean canvas, a 1-page business template that helps you break your business into its key assumptions.
It aims to replace the larger and more complex traditional business plan with a shorter, simpler and more concise lean business plan. The lean start-up is really fast to create (it can be done under 20 minutes),  is easily shared with others and is very concise.
You can have a version of your lean canvas hung in your office or business premises so that everyone can see what the key features of the business are.
First, you can try out the Lean Canvas for free, but downloading it for sharing requires that you have a subscription
The business plan generator by Invoice Berry is just that, a generator that generates business plans. Invoice Berry are professional invoice creators. They also have a business plan generator. You can download the business plan template in multiple formats, such as a Microsoft Word document, a Microsoft office template, a PowerPoint presentation, or a business plan checklist as a Microsoft Excel spreadsheet. 
The resources here are free to use, although they are quite basic. I mean basic in the sense that they are not industry-specific, so you'll have to know quite a bit about your company and be willing to do a lot of research before you can use the template to create a business plan that you'll love.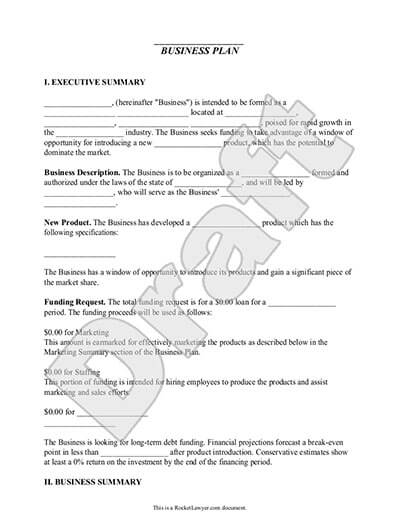 Rocket Lawyer is a law firm that provides various legal services for businesses. They've built an easy to use business plan generator. To access it, all you need to do is visit their website and fill in the details of your business in the field provided. It is really simple to use, as all you need to fill in the unique words that define your business. Every other thing is defined for you.
The template on the website comes with an executive summary, a business summary that gives a brief snapshot of the industry and where you want to be positioned. It also comes with marketing and a strategy/implementation summary. The financial plan in this template is more or less geared toward getting funding. Overall, the template is a good one, though a little on the light side. This plan can be considered a lean template rather than a full-fledged traditional business plan
Law Depot is another law firm that created a free business plan generator that you can use to build a business plan for your business. This business plan is quite comprehensive and industry-specific.
To start with, you'll be asked to input your industry, then company name and address. As you go on, you'll be asked to fill in various details about your company under sub-sections such as overview, company structure, products, marketing, SWOT etc.
The business plan generator is very easy to use, and the generated plan will be customized to your business and industry. You can be done with the entire process in 5 minutes. Not a bad way to build a business plan, considering building your own could take hours or days (or weeks, if you are a master procrastinator).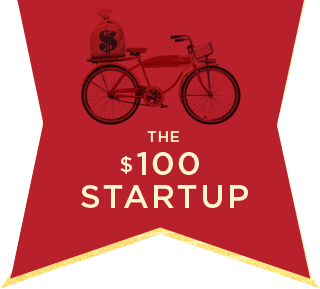 The $100 start-up is a great book that has helped millions of entrepreneurs achieve their dreams of building a successful business. On their website, they have several resources which include marketing plans, a product checklist amongst many other available packages. To get started, visit their website and download the PDF documents so that you can build your business plan.
Bplans claims to have the largest collection of templates in the world. Whether that is true or not, they certainly do have an impressive collection of sample business plans. The service is incredibly popular, with its business plan template having over 600,000 downloads.
You can download editable business plan templates as well as live samples from your industry. That is, you can see the business plans that other users in similar industries have submitted, and use that as a benchmark for your plan. Is that cool or what?
SCORE, an organization whose goal is to help build vibrant start-up communities, helps small businesses by giving them access to mentorship and resources that'll better help their businesses. This includes a business plan template. The business plan helps you create the perfect investor-happy plan by giving you instructions, questions to think through and worksheets to fill as you work through each aspect of the plan. The plan contains all the traditional sections already discussed such as Executive Summary, Marketing Plan, etc. 
The Business Plan Shop provides you with a free business plan template. it comes with a complete business plan outline in Microsoft Word outline, and the skeleton of a business pitch delivered in PowerPoint Format. In addition to that, there is a paid online business planning software that provides a financial model that can easily be used, as well as a powerful text editor to produce an investor-ready plan. 
Startup Loans is a subsidiary of the British Business Bank, and they deliver start-up loans from the Government to businesses that need finance, as well as provide support for businesses that are struggling to access other forms of finance. As part of their services, they provide a business plan template as well as a guide on how to use it. 
The template comes in an easily editable Microsoft Word format.
Hubspot is one of the best and biggest companies in the digital marketing space. From social media to SEO and everything in between, they are one of the industry leaders. They've provided a free business plan template to help you write the perfect business plan. The template helps you create the exact type of business plan that your business needs. The template helps you write a company description that sells your company story and history, describes your industry, products, competitors, and how you wish to compete. 
Shopify is perhaps the king of e-commerce. Thousands of brands build their e-commerce business with the platform. Success for brands on the platform also means more success for Shopify, so they have provided a free business plan template to help businesses and entrepreneurs, especially those entering the e-commerce space to survive and grow.  This business template includes most of the sections that traditional business plans use.
PandaDoc is a document management solution for businesses. They offer various products like quotes, proposals, contracts, etc. They have provided a free business plan template to help businesses automate their processes and focus on the aspects of your business that counts.
Wrapping Up
There you have it, 15 free business plan templates for your business.
Now, you don't have an excuse not to have a business plan.
In case you are not sure which business to start, check these profitable small business ideas that are also very easy to start.
Related Articles:
Business Plan Outline: 9 Points For A Good Business Plan
Start a Business: 7 Things You MUST Do Before You Quit Your Day Job
Start An Online Business 101: The Essential Guide
Is Starting a Business Worth It? 8 Reason That Proves It's Worth Your Time
Top 20 Pros and Cons of Owning a Business
Start A Small Business At Home With These 9 Steps
80+ Best Free Business Card PSD Templates
150 BEST Free PowerPoint Presentation Templates And Google Slides Templates To Amaze Your Audience
Top 6 Most Important Presentation Skills – Proven To Work
30 BEST Cheap Fundraising Ideas – That Genuinely Work
Elad Lev is the founder of Weshare.net – In love with words, videos and everything in between. His passion for helping people in starting a business online and teaching online is avid in every article he makes. In addition to his writing and content publishing.