Discover the best UI design system templates & resources out there and save many hours in building your own design system
There are many tools today to help you build a design system. Sketch, Photoshop, Adobe XD, Figma, Invision Studio and others are all there to help you design faster.
As we mentioned in our previous article about design systems, the main purpose of a design system is to build a structure for you to iterate and create larger scale product faster and more efficiently.
In this article, I'll introduce you the best UI design systems templates and resources that would save you hundreds of hours in building your next design system.
Design System For Sketch By UI/UX Assets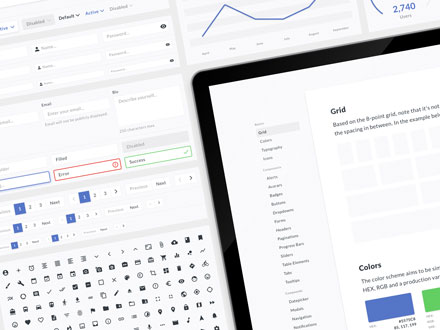 UI/UX Assets has developed two starter kits for Sketch, one for desktop apps and one for mobile apps. Both of these kits are frameworks to quickly build awesome interfaces. That's really what this is. But ultimately, they're a tool that will help you save time and work more effectively with the power of nested symbols, organized typography and shared styles.
Their desktop starter kit for Sketch contains over then 200 responsive symbols, 14 flexible charts and an extensive style guide. Great for desktop apps, both native and web.
Their mobile starter kit for Sketch is with over 250 responsive symbols, 14 flexible charts and an extensive style guide. Perfect tool for iOS, the iPhone X and Android.
Price – Buy for 16.50$ per month
Essentials Design System
A customizable and flexible design system for your Sketch projects. Essentials help you quickly design mockups and prototypes with a myriad of drag and drop and responsive components.
Its components range from buttons to progress sliders, there are more than 130 ready-to-use components to help you build prototypes by simply dragging and dropping components in the form of Sketch Symbols.
65+ widgets featuring a plethora of reusable widgets for every type of website and application. Additionally, there are full page mockups for popular types of apps such as calendars and e-commerce cards.
The widgets are designed with 4 major categories in mind: Blogging, Landing Pages, Dashboards and E-Commerce. Components can be used for any of those categories and more.
Price – Lite Version for 9$ \ Full Version for 19$
Polaris By Shopify Design System
Polaris is Shopify's design system. It's meant to be a open source design system for merchants and 3rd party developers on Shopify's platform. Doesn't mean you can't use it for other purposes right?
It has a react design library and UI/UX starter kit for sketch for you to build amazing eCommerce experiences using Shopify's components, guidelines and colors.
Price – Free
Clarity Design System
Project Clarity is an open source design system that brings together UX guidelines, an HTML/CSS framework, and Angular components. Clarity is for both designers and developers.
Clarity's designs stem from continuous exploration and research. These designs are built into our HTML/CSS components, which can be used any web UI, regardless of the underlying JavaScript framework. Clarity also offers a set of well-designed and implemented data-bound components built on top of Angular, one of the most popular JavaScript frameworks in the industry.
Price – Free
Lightning Design System By Salesforce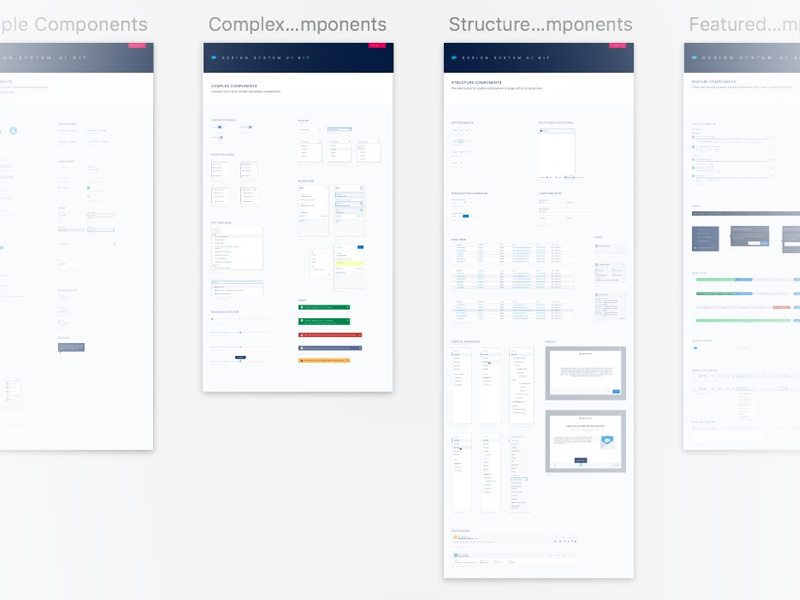 The Lightning Design System enables you to build rich enterprise experiences and custom applications with the patterns and established best practices that are native to Salesforce.
It has components that are the building blocks of Salesforce applications, enabling designers and developers with ready-to-go interface elements available in HTML and CSS code, or in Sketch.
It also provides accessible markup which will serve as a foundation for your application development. To build accessible components, you will need to follow the accessibility guidance for interactive components, including keyboard behavior and the management of ARIA roles and properties.
Price – Free
Ant Design System By Alibaba
Ant Design is an enterprise-class UI design language and React-based implementation with a set of high-quality React components, one of best React UI library for enterprises. It was made by Alibaba.
Price – Lite version for Free
Audi UI Kit For Sketch
Audi user interfaces are as varied as their uses – ranging from inspiring websites to applications for a particular service. They are based on the principles of the Audi look: variety, honesty and balance. The aim is to create varied solutions and a well-balanced, system-wide user experience – from the app to the vehicle. The basis for this is provided by a joint set of components, modules and animations.
Their design system contains layout structure, colors, typography, core components and animations.
Price – Free
Carbon Design System by IBM
Carbon is the design system for IBM Cloud products. It is a series of individual styles, components, and guidelines used for creating unified UI.
In its sketch version it contains core visual styles, components, and patterns a designers needs to use Carbon as a framework for building product experiences.
Price – Free
Predix Design System
Predix is a Sketch file that contains core layouts, components, colors and fonts. The Design Starter Kit makes designing a consistent app simple.
Price – Free
Symbols & Styleguides – A Design System by Jan Losert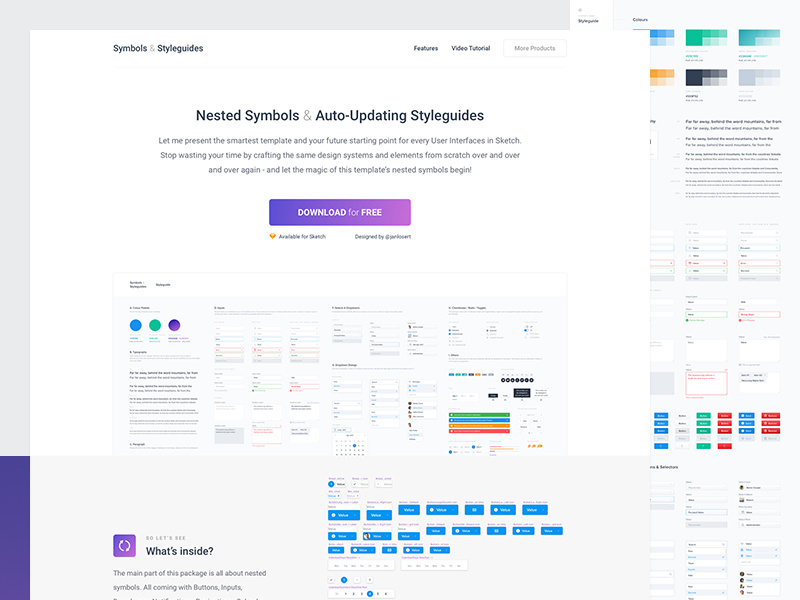 The smartest template and your future starting point for every User Interfaces in Sketch. Stop wasting your time by crafting the same design systems and elements from scratch over and over again – and let the magic of this template's nested symbols begin.
Price – for Free!
Apple UI Design Resources
Design apps quickly by using Photoshop and Sketch templates, plug-ins, and preconfigured UI elements.
Apple UI Design Resources include Photoshop, Sketch, and Adobe XD templates, along with comprehensive UI resources that depict the full range of controls, views, and glyphs available to developers using the iOS SDK. These resources help you design apps that match the iOS design language. Icon and glyph production files are preconfigured to automate asset production using Sketch slices or Adobe Generator for Photoshop CC. Color swatches, dynamic type tables, and fonts are also included.
Price – for Free
Shopaholic UI Kit For Sketch
It is a thorough iOS 11 eCommerce UI Kit for Sketch, Photoshop & XD.
It contains a stunning new shopping-based UI Kit designed with the latest iOS 11 design trends in mind. Shopaholic includes 29 mobile screen templates compatible with Adobe Photoshop, XD, and of course Sketch! We crafted this kit using San Fransisco iOS 11 system font and it is completely vector-based, allowing you to resize all templates without losing its integrity.
Price – Buy for 48$
Frames for Sketch – Design System
Carefully crafted components and Sketch best practices combined into a most powerful web design system, that will supercharge your design workflow.
Frames toolkit help you to unlock hidden potential and discover techniques that will save you hundreds of hours on every next project making full use of latest Sketch features.
All building blocks are made using nested symbols, which gives you the ability to customize shape or state of an element. All symbols are linked with the style guide, making any changes will stay sync with whole UI kit, this ensures full consistency for your project.
Frames include collection of pre-designed layouts sorted into most popular web categories that are ready to be used as working material for kick starting a new project in seconds. Also, Frames contains a set of 32 Charts + Table components that can be easily customized, resized and reused so you can focus on working with data instead of vector points.
Price – Lite Version for Free \ Full Version for 48$
Elad Lev is the founder of Weshare.net – In love with words, videos and everything in between. His passion for helping people in starting a business online and teaching online is avid in every article he makes. In addition to his writing and content publishing.