Here's some 30+ Free UI Kit templates that are designed in PSD and Sketch formats for designing User Interface Elements Website templates, App interface and Desktop Application.
This article we will showcase some of the most beautiful and useful collection of PSD and Sketch UI kits for 2018. Big brands use UI Kits and now you can download some of the best UI Kits available on the market. The best thing about these is that all of them are free of cost and easy to use. So check them out and pick the ones you like the best on the list of 30+ free UI kit templates For Sketch & Photoshop below.
You may also like:
Crisp Ecommerce UI Kit – Sketch
Crisp Ecommerce is a free Sketch UI Kit with clean design style. This UI Kit includes popular web interface elements in the web widgets.
Kama – iOS UI Kit
A free IOS App UI Kit with modern and clean design style. This UI Kit includes 120 clean app screens in full PSD file.
Phoenix UI For Sketch
A Free Phoenix IOS App UI Kit containing 12 beautifully designed screens for both Photoshop and Sketch. Phoenix IOS App UI Kit is great for for make iPhone 7 App.
Food & Drink Free UI Kit for Sketch
Food & Drink is a clean and modern UI kit providing many useful widget-style components for your inspiration. Free PSD and Sketch files released by Sergiu Firez.
V Avenue UI Kit PSD
An advanced mobile UI Kit PSD with a strong focus on e-commerce. These 100 mobile app templates of the highest quality with a ultra clean and sharp look can become your most useful tool for mobile app design.
Placed free UI Kit PSD
Placed Ui Kit is a large, modern set which contain 60 components and 600 elements in 8 categories.
EarthShift — UI Kit PSD
EarthShift is a simple but stylish UI kit providing many useful widget-style components for your inspiration. Free PSD and Sketch files released by Arsen Kolyba.
Portland UI Kit Freebie PSD
Portland – perfect, elegant and bright UI Kit. It combines beauty and usability and it is definitely the tool you need in your collection.
Shop UI Kit PSD
Shop PSD UI Kit consists vibrant color UI Widgets that are just perfect for any mobile or web widget applications.
Rusty UI Kit PSD
Rusty is a nifty kit containing some cool widgets that should be very useful for your future projects as well as a great source of inspiration.
Ventas Mobile App PSD
Ventas is a free UI kit for mobile apps designed for travel magazines. The package includes 6 fully customisable screens built with Photoshop. Free PSD released by Patryk Wąsik.
Elton UI Kit PSD
A free UI Kit including tons of useful elements to help you in designing a beautiful e-commerce web pages. It brings an excellent variety of widget-based components what makes it a huge helper and a time saver for any web-designer
Splash UI Kit for Sketch
A handy set of 20 polished UI screens designed for building creative landing pages. These Sketch templates featuring popular 960 grid system, vector shapes, and Google fonts.
MAX UI kit For Sketch
Max UI Kit is a pack of stylish UI elements that saves time and takes your next app to a new level. Max UI Kit includes 5 categories with more than 180 retina ready elements.
Real Home free UI Kit PSD
A thoroughly designed real estate PSD template based on the Bootstrap grid. With its clean, easy-to-modify design it would be incredibly useful for all web design related professionals.
TREND PSD
Free social & e-commerce mobile application PSD template for iOS. Crafted by Oleg Bolshakov.
Clean & Modern iOS UI Kit PSD
A Clean and Modern iOS UI Kit that includes 10 app screens in free PSD format.. You will find this Clean and Modern iOS UI Kit Free PSD useful and can use it to concept ideas or create custom interface elements.
Dashboard UI PSD & Sketch
Designing dashboard UI is always a challenge, so many details to keep in mind! But you don't have to start from the scratch every time. Download three screens brought to you in both Photoshop and Sketch formats beautifully designed to become a huge time-saving shortcut.
Landing Shot PSD
A clean and beautiful landing page UI kit that contains 80+ beautiful components. Created by Ruslan Latypov.
Guacamole UI Kit PSD & Sketch
Guacamole is a free UI kit Photoshop, Adobe Xd or Sketch recently featured on ProductHunt that includes 150+ icons, 70+ elements, 600+ retina-ready layers and 500+ vector shapes.
Currency app Ui Kit Sketch
Currency app UI Kit Template For Sketch. You can easily use the design for personal & commercial use. Designed and released by Rubi Nguyen
Wonep UI kit For Sketch
This beautiful UI kit by Alexey Matyushkin represents a complete iOS app for making affordable international calls. The Sketch file includes over 30 uniques screens and several UX flows: Onboarding, Recent Calls and Contacts, Dialing, Billing, Selecting Favorites, and much more.
Kauf UI kit PSD
Kauf iOS UI Kit is the first interaction ready, high quality pack of 67 handcrafted stress-free screens, meant to speed up your design workflow. It contains ready-to-use full vector screens. You can edit, customize, mix the UI elements as you like.
Relate UI kit PSD
Build connections with the Relate UI kit by Invision. 45 templates, 15 categories, and 99+ UI elements-optimized and retina-ready.
Food Order App UI PSD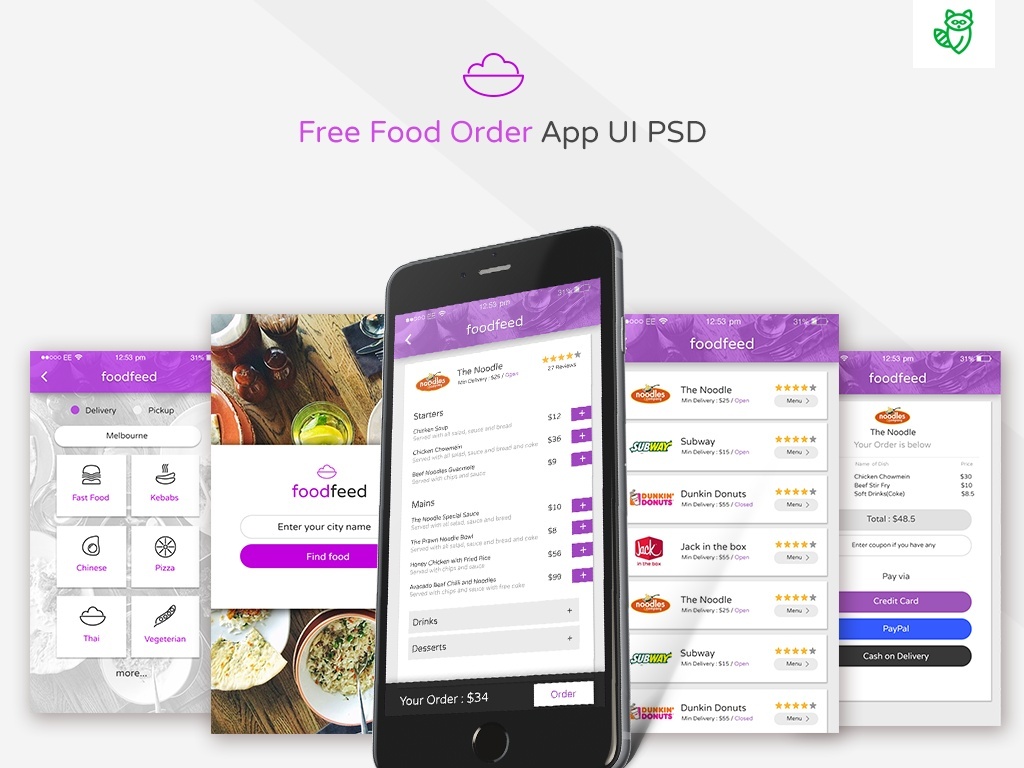 Food Order App UI contain beautiful, high quality, modern and uniquely designed PSD files. It has an unlimited commercial license and is free for commercial and personal use.
Cardly Card-Based Landing Page PSD
This free landing page template uses a card-based layout which makes it very flexible and easy to make responsive across multiple devices and screen sizes.
Remote Control Dashboard PSD
A remote control dashboard which can be used as a base for any dashboard, you just have to be a bit creative and work with it.
Super Admin PSD
Super Admin is a free ui kit psd dashboard which can be used as a base for any dashboard for enterprise web & mobile apps. This PSD template is free for personal and commercial use.